Children of Liberty STEAM KEY REGION FREE GLOBAL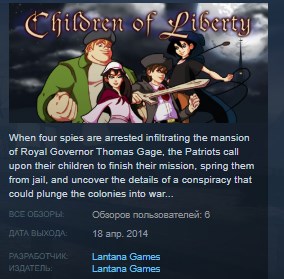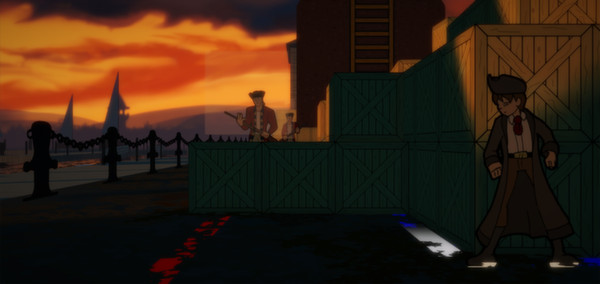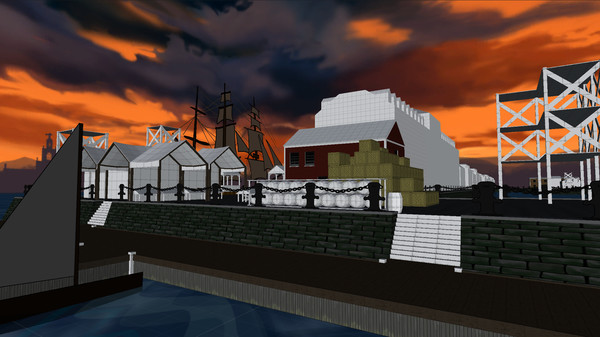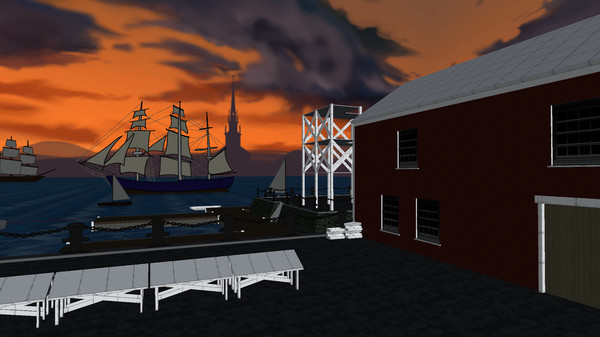 https://store.steampowered.com/app/264440/Children_of_Liberty/
💎💎💎💎💎💎💎💎
STEAM KEY REGION FREE GLOBAL
Listen my children, and you shall hear of the midnight ride of Paul Revere...
When four spies of the Sons of Liberty are arrested infiltrating The Province House, their children join Paul Revere, Samuel Adams, and the Sons of Liberty to finish their mission and break them out as the threat of Revolution looms over the Colonies...
Join Joseph, Ally, Doug, and Sarah as they use their wits and their toy chest to defeat the Redcoats in this 2.5D stealth-action adventure retelling of Paul Revere´s Midnight Ride for kids and adults alike!
Learn more about Children of Liberty at http://www.childrenofliberty.us
Early Access Progress
Want to see where the game is headed? We´ll be keeping this Progress Graph up-to-date throughout Early Access. You´ll be able to see which levels we´re focusing on and how complete they are with each of our four characters!
Keep track of our progress LIVE on Google Drive!
Current Early Access Status
Playable Levels: Warehouse
Playable Characters: Joseph
Recent Updates: 1/22/2015 - Early Access 11.1 Quickfix!
Fixed
- Missing Textures in Warehouse
We have spent the first few months of Early Access cleaning out numerous bugs, improving gameplay & system compatibility, overhauling our UI to display keyboard + controller elements, and much more to make Children of Liberty a more stable and fun experience! Many thanks to our players and community for their feedback and bug reports. We are now working to bring you new content thanks to our friends at MassDigi!
Features
2.5D Stealth Gameplay: Lurk in the shadows! Children of Liberty features 2D gameplay in a 3D world. Run, jump, and turn along the Red Freedom Trail with smooth and responsive controls; hide, sneak, and lean around corners along the Blue Freedom Trail to gain strategic positioning against Redcoats and attack when the time is right!
Traditional Animation: Thousands of frames of hand drawn animation, combined with accurate-to-reality constructed environments and realtime lighting, bring the characters of Children of Liberty to life!
Four Playable Characters: By the end of early access, all four characters will be playable. See our Early Access Progress Graph to see how this is going.
Multiple OS Compability: Are you an Ubuntu user? Mac OSX? Windows PC Gaming Master Race? We´ve got you covered! Children of Liberty is already compatible with all 3 major PC operating systems.
Community: Want to make money off of showing our game to the world? Go for it! You have our permission to record and monetize Children of Liberty´s gameplay on Youtube, Twitch, and other video streaming services.
---
ИНСТРУКЦИЯ ПО АКТИВАЦИИ:
1. Необходимо скачать и установить Steam http://steampowered.com/download/SteamInstall.msi
2. Зайти под своей учетной записью или зарегистрировать новую.
3. Перейти в раздел "добавить игру" и выбрать "Активировать через Steam...", ввести ключ полученный после оплаты.
Цена:
15
руб.
Купить или узнать подробнее
← Назад на главную страницу